The church of Panagia Pantanassa in Monastiraki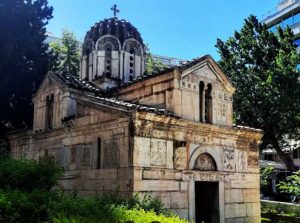 The Byzantine church of Panagia Pantanassa in Monastiraki square of Athens, is nextricably linked to the moral magnificence of Virgin Mary Pantanassa, is also the moral magnificence of two leading figures of Orthodoxy, Saint Nektarios of Pentapolis, who served as a deacon at the Monastery in the period 1881-1885, and Saint Loukas of Steiros (896-953), who was a monk in the famous monastery.
The beautiful Byzantine church of Pantanassa was highlighted during the aesthetic renovation stage in the new square of Monastiraki, at the intersection of Ermou, Athinas and Mitropoleos streets, next to the bed of the Iridanos river, which was recently revealed. According to some historical sources the church was built in the 9th century, while according to others in the 7th.
In terms of its architectural structure, the church is a vaulted, three-aisled basilica, built with asymmetrical stones. It makes an impression on the technical structure of the church, that in its four corners there is an ancient Greek capital built into it.
During the years of the 1821 revolution, the temple suffered serious damage and thus maintenance interventions were carried out in 1890. During this period, an elaborate and majestic bell tower was also rebuilt, in which some frescoes were also captured.
However, in 1911 operations were carried out on the bell tower, where the old one was demolished and in its place was erected the current massive and, according to art historians, lower aesthetics than the one that existed in 1890. This fact also undermined the aesthetic beauty of the entire church and the surrounding area . At the same time, in the new bell tower of 1911, subordinate frescoes of the previous ones were placed, while a narthex and a women's corner were created.
But alongside its multi-faceted historical presence, some great relics of Orthodoxy were also saved in Pantanassa. The holy icons of Saint Panteleimon of 1836, of Saint Thekla, images of the wood-carved iconostasis of 1840, hagiographies by the great painter and writer Fotis Kondoglou, the icon of Saint Eleusis and several other important relics were thus saved.
After the devastating earthquake of 1999 took place in Athens, the temple was seriously damaged and work began on its static support. Panagia Pantanassa is an incorruptible Orthodox cultural jewel of Athens and for this reason the people of Athens surround her with reverence and unspeakable love.