The monument of the Unknown Sodier in Athens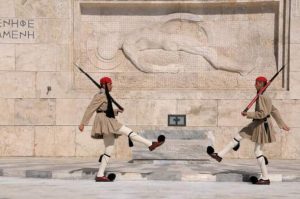 The Monument to the Unknown Soldier in Athens was built in front of the Old Palace in the 1930s and inaugurated on March 25, 1932, while like all monuments of this type in many countries around the world, it is a cenotaph in honor of the fallen in wars.
The existence of a monument for the soldiers, who did not have the possibility to be buried, so their souls would not rest, dates back to antiquity, with the Ancient Greeks who had the foresight to create a cenotaph dedicated to the Unknown Soldier, as mentioned by the ancient Thucydides .
In recent years, the first Unknown Soldier monument dedicated to the unknown soldiers – heroes of the Revolution of 1821, was erected in Ermoupoli, Syros in 1858, while the decision to create a monument in Athens was taken in 1926 by the dictator Theodoros Pagalos. The location of the Monument was indicated by the architect Emmanuel Lazaridis himself.
The project is a P-shaped embankment made of large-sized porolits. The sculpture is in the background and central to the whole work. To the left and right are two lateral staircases while in the center is a tomb in a rectangular frame and raised.
The sculpture represents a naked male figure of a dead warrior, who in his left hand holds a circular shield, on his head he wears an ancient helmet with his face turned to the side. The artist's rendering of the dead body gives the viewer the impression that the Unknown Soldier is resting alive, ready to rise.
To the left and to the right of the performance, phrases from the work of Thucydides are engraved: On the left the phrase "An empty bed is brought strewn with the invisible" from the description of the burial ceremony before the delivery of the Epitaph of Pericles and on the right "Eminent men pass the earth grave" from the epitaph, while in the middle of the cenotaph the phrase: "To the invisible soldier" was engraved in smaller letters.
The wall is surrounded on both sides by chiseled porolits on which are engraved, in sections, the names of places where the Greek army fought many deadly battles in recent history. From the beginning of the handover of the Monument, its honorary guarding was undertaken by a special military company of the Guard of the President of the Republic, which was renamed the Guard of the monument of the Unknown Soldier.
In 1935, with the return of George II, the company was named the Royal Guard, while from 1974 it was officially named the Presidential Guard and has the responsibility of guarding the Monument twenty-four hours a day. In fact, every time there is a changing of the Guard in front of the monument it is a pole of attraction for those present.