Kastella and Prophet Ilias hill
Kastella is a neighborhood of Piraeus that includes the area around the small port of Munichia or Mikrolimano as well as the hill of Profitis Ilias. In the past there were magnificent mansions in this district, some of which have been preserved to this day.
Kastella Hill has an altitude of about 90 meters. From the committee set up in 1925 to correct the names of various areas and points of Piraeus, it was named Munichias hill, included within the city walls, but it remained better known by the name of Prophet Elias from the homonymous church located on its top.
According to the available sources, at the end of the 1860s, the Municipality of Piraeus allowed a private individual named Papadopoulos to build a small chapel "in the name of Agia Rossiki" on that spot, on the condition that the church be considered municipal – fact which was finally realized in 1883. The current temple of Prophet Ilias is modern as the one depicted in the photograph of the period was heavily damaged in the 1980 earthquake.
At the top of the hill there is a water tank for the city's water supply and in the past the district was also known as "Reservoir District". It is noted that the people of Piraeus call the eastern side of the hill Kastella, while the western side facing the city of Piraeus is called the hill of the Prophet Elias.
History
In 403 BC the democrats under Thrasybulus rallied on the hill of Kastella after occupying the buildings built by Hippias in 510 BC. fortifications, were fortified and repelled the attack of the Thirty Tyrants restoring democracy in Athens. In this battle on the hill of Kastella Critias, the ablest and cruelest of the Thirty Tyrants, met his death.
During the Battle of 1821, during the siege of Athens by the troops of Kioutachi, the Greeks under Georgios Karaiskakis fortified themselves on this hill, where the name prevailed, initially Kastellia (small fortresses) and later Kastella. On the western part of the hill there was a cannon which had been erected during the blockade of William Parker, according to the known Parkers.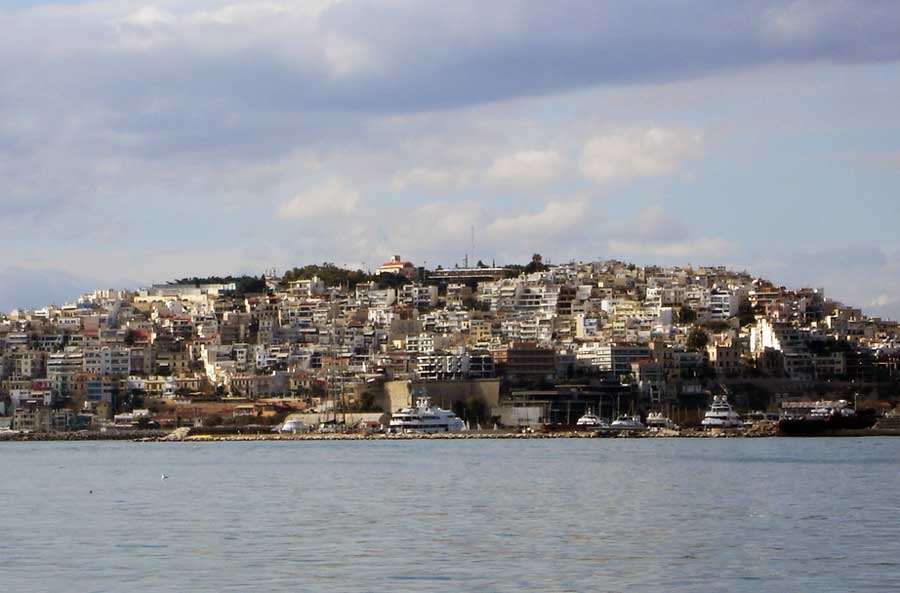 Modern Kastella
Cretans settled in Kastella, hence the name "Kritika" and then, despite Turkolimano which is its oldest name, also Mikrolimano and west of the hill, refugees from Asia Minor. On the top, from where the view is panoramic, there is a Municipal refreshment room with a bowling facility and the open theater (type of ancient theater) "Veakio" formerly "Skylitsio", both works during the mayorship of Aristidis Skylitsis.
In Kastella there is the open municipal swimming pool that bears the name of the great athlete, coach and factor in Greek water polo, Andreas Garifallos who had a great career with the Piraeus National Team of Olympiakos FC and the Hellenic National Team.